It's June, and the third-year students at St. Louis University School of Medicine are getting out of anatomy labs and lecture halls and into their first clinical rotations with patients.
The doctors in training can be easily identified by their short, white coats and stethoscopes around their necks.
Earlier this month, when those students listened intently to their first grand rounds presentation of the new academic year, it was telling that the topic was toxic stress and children.
It was presented by SLU Associate Professor Kenneth Haller, head of the Missouri Chapter of the American Academy of Pediatrics. It was held at Cardinal Glennon Children's Hospital, where the effects of toxic stress on children can be seen firsthand: asthma, obesity, child abuse, hyperactivity and depression — all associated with chronic levels of household stress.
"This is their first rotation," said Haller of the students. "It really challenges them to figure out, what are you going to do with this public health problem?"
SLU neonatologist Dr. William Keenan went so far as to say the presentation was "the most important grand rounds we've had this year, probably this decade."
As the Post-Dispatch chronicled in a February special report based in Ferguson, toxic stress occurs when children and adults don't get a mental break from chronic worries and extreme burdens. Though such stress can afflict anyone, it is particularly common among families living in poverty and compounded by experiences of past trauma.
For the students, much of this was new information and not something they had encountered in their own childhoods. Third-year student James Arpin from Hutchinson, Kan., said there was always food on the table, stable housing and a harmonious family to support him while growing up.
"You realize these families have a lot of problems that you and I may never have to face," he said.
Arpin said the presentation was the first time he had heard about dire adult health statistics associated with adverse childhood experiences. Research suggests four or more traumatic events in childhood drastically increases chances of developing chronic adult conditions like high blood pressure, diabetes, heart and kidney disease, stroke, obesity, cancer and mental illness.
Seeing it firsthand
As the recent grand rounds presentation indicated, the topic of toxic stress is steadily gaining traction in medical, public health and mental health fields as a major health issue potentially affecting millions of children — many of them growing up in poverty.
The recommendation is intended to bring up the topic of poverty because of its health risk to children. The Academy wants physicians to make better efforts to link families and children to supports like food or diaper banks, or early childhood supports.
But the question remains, are doctors adequately prepared to address toxic stress and its roots in poverty, both in their examination rooms and in the public domain?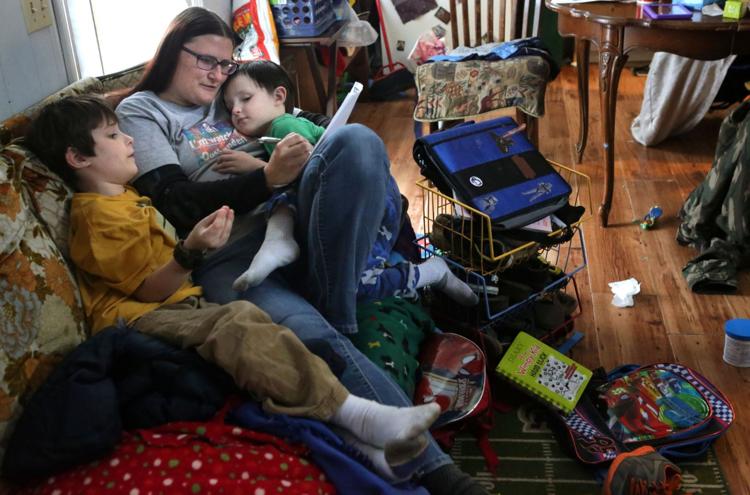 Robert Block, past chairman of the American Academy of Pediatrics, said medical schools are mostly doing a good job educating students on the issue and teaching them ways to better interact with families and children facing toxic stress.
But because many practicing pediatricians and family doctors are wedded to traditional billing and scheduling procedures, "there are not systems in place for established practices to make big changes to include conversations with families on their parenting circumstances and resources," he said. It will take years for new doctors to enter those practices and effect change.
At Washington University School of Medicine, for example, students learn about toxic stress and trauma within the first week of school through a program that sends them out to various low-income neighborhoods and medical clinics. They see firsthand the general burdens of poverty including neighborhood violence, food need, debt, housing insecurity and domestic conflict, said Dr. Michael Awad, associate dean of medical education.
"Some of the students are quite moved, quite shocked, and it really gets them from an very early point on in their education thinking about patient care in a different way," he said.
Awad said the medical students are also tasked with bringing their knowledge into the greater medical community.
"Our students in some way may know more than our experienced physicians on this topic," he said. "The students do become the teachers, and that's OK."
Supporting parents
In February, the Post-Dispatch ran a special report, "The Crisis Within: How toxic stress and trauma endanger our children." It focused on the stresses among three families in Ferguson already coping with the traumatic shooting death of 9-year-old Jamyla Bolden who lived nearby and was a friend to some of their children. The report further chronicled daily struggles with housing, debt, lack of transportation and past trauma and proposed solutions to lessen that stress on children.
During Haller's presentation, he referred to two of the children featured in the series as they dealt with this stress. One of them, Destiny Sonnier, had a routine when she played outside with a cousin. They'd stop their cartwheels and pray so they wouldn't get shot.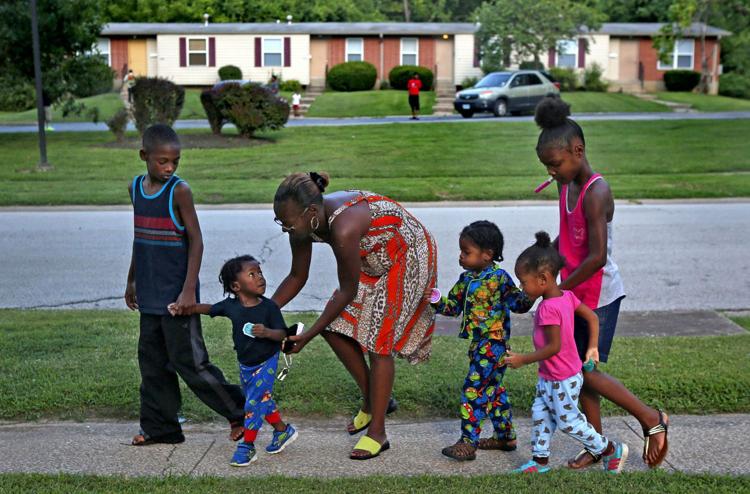 Haller said he treats at least one child a day showing signs of toxic stress at Cardinal Glennon's Danis Pediatrics, a practice that serves mostly poor and uninsured families. Many parents come to the office seeking help for extreme behavioral problems in their children because of that stress.
He recalled a single father bringing a baby and older boy for a check-up. The father described feeling helpless because of a low-paying, part-time job, lack of parenting support and no child care. He could not give one positive attribute about his child. Haller said the staff linked the father to child care and other support, enabling him to get a break and better bond with his son.
Haller urged physicians to have empathy for families. He said physicians can help empower parents so they better bond with their children and buffer them from stress, he said.
He also told the students their future medical degrees could give them great influence in developing better public policy to help children and families thrive:
"Every single day we can use the power of our white coat."